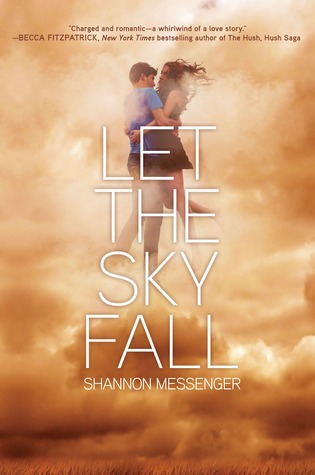 Author: Shannon Messenger
Series: Let the Sky Fall #1
Summary from Goodreads:
Vane Weston should have died in the category-five tornado that killed his parents. Instead, he woke up in a pile of rubble with no memories of his past – except one: a beautiful, dark-haired girl standing in the winds. She swept through his dreams ever since, and he clings to the hope that she's real.

Audra is real, but she isn't human. She's a sylph, an air elemental who can walk on the wind, translate its alluring songs, even twist it into a weapon. She's also a guardian – Vane's guardian – and has sworn an oath to protect him at all costs.

When a hasty mistake reveals their location to the enemy who murdered both their families, Audra has just days to help Vane unlock his memories. And as the storm winds gather, Audra and Vane start to realize that the greatest danger might not be the warriors coming to destroy them, but the forbidden romance growing between them.
Comments:
I'm so relieved that the ending was so much better than the other parts of the book or I would have been really frustrated with this book. The author gave me a new world to explore since I've never heard of sylphs before, but the story didn't really make me that interested. It wasn't really bad, but it wasn't that good either.
How would you feel if one day you would discover that you aren't human? Let us leave that question to be answered by Vane Weston when he found out that he was a sylph. Not only that, but suppressed memories were suddenly becoming clear. The greatest event was meeting that girl he often dreamed about – Audra.
The story was interchangeably from Vane and Audra's point of view. Vane's tone is usually sarcastic and funny whilst Audra's more serious and uptight. I guess one thing I didn't like was the info dump regarding the winds and windwalkers and other wind talk. The conversations were a bit too long for my taste while the action came at the end. Each day that they were together was just too long. Romance-wise, it was alright, not something I'd really fangirl about.
Hopefully the next installment wouldn't be as dragged out as this one!
My Rating: ★★