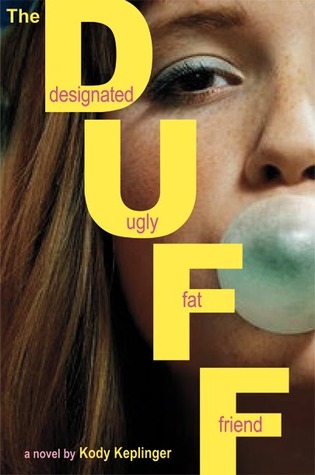 Author: Kody Keplinger
Summary from Goodreads:
Seventeen-year-old Bianca Piper is cynical and loyal, and she doesn't think she's the prettiest of her friends by a long shot. She's also way too smart to fall for the charms of man-slut and slimy school hottie Wesley Rush. In fact, Bianca hates him. And when he nicknames her "the Duff," she throws her Coke in his face.

But things aren't so great at home right now, and Bianca is desperate for a distraction. She ends up kissing Wesley. Worse, she likes it. Eager for escape, Bianca throws herself into a closeted enemies-with-benefits relationship with him.
Until it all goes horribly awry. It turns out Wesley isn't such a bad listener, and his life is pretty screwed up, too. Suddenly Bianca realizes with absolute horror that she's falling for the guy she thought she hated more than anyone.
Comments:
Okay so I was intrigued with this book because I saw the trailer of the movie coming out next year. I heard a lot of good things about this book too, but with all honesty, it wasn't much to my liking.
There are a lot of stereotypes in this book – yep typical high school. Main character Bianca was such a hypocrite most of the time but I got to hand it to her for realizing that in the end. She is just so full of contradictions, lies a lot, hates almost everything, makes excuses about needing a distraction, . She has a lot to say about other people, but doesn't even stop to think about things she's been doing.
What is exactly honest about this book? What is it trying to say? Probably that teens have a lot of raging hormones.
"And you, darling, are the Duff."
"Is that even a word?"
"Designated. Ugly. Fat. Friend," he clarified. "No offense, but that would be you."
My Rating: ★★ (2)