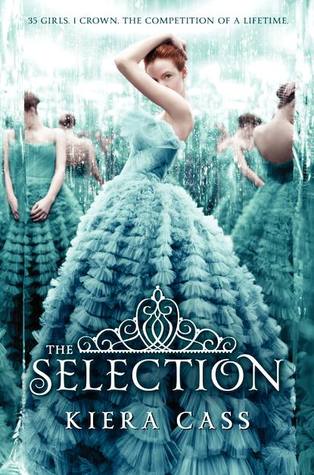 Author: Kiera Cass
Series: The Selection #1
Summary from Goodreads:
For thirty-five girls, the Selection is the chance of a lifetime. The opportunity to escape the life laid out for them since birth. To be swept up in a world of glittering gowns and priceless jewels. To live in a palace and compete for the heart of gorgeous Prince Maxon.

But for America Singer, being Selected is a nightmare. It means turning her back on her secret love with Aspen, who is a caste below her. Leaving her home to enter a fierce competition for a crown she doesn't want. Living in a palace that is constantly threatened by violent rebel attacks.

Then America meets Prince Maxon. Gradually, she starts to question all the plans she's made for herself—and realizes that the life she's always dreamed of may not compare to a future she never imagined.
Comments:
I have mixed feelings towards this book. Entertainment value is high; I get giddy about the selection part because it reminds me of tv shows with similar mechanics. But it remains as it is – just pure entertainment, something to occupy time when bored. I did enjoy reading the book, but it didn't give me a feeling of amazement when I was done.
Aside from the ridiculous names (ehem *America Singer* ehem), there wasn't much of a plot in this book. Rebels were attacking the palace but whatever the real reason was unknown. Some of the girls were just let go without real explanation on why they had to. The focus was mainly on Lady Singer and the too common plot – a love triangle. Seriously? It seemed like Prince Maxon was made perfect for that very reason – to make him level with Aspen and confuse the damsel-in-distress' heart. Ugggghh.
But no worries, I'll still read the next book. There are a lot of unanswered questions and issues to be addressed. Maybe that was wise on the author's part so we have to continue reading. I do hope the next book at least makes it certain what direction this series is taking. America, please be decisive and not play with other people's hearts. It is seriously becoming overrated. 🙂
My Rating: ★★